Dr. Jean Feldman
Dr. Jean Feldman has been actively involved in education for over 35 years as a classroom teacher, instructor of adults, author and consultant. She has captured her classroom on her recordings. Lots of useable ideas for the classroom teacher and their students. Traditional songs and chants to use as tools for themes and subjects.
Fusion Fiesta Fun, Dr. Jean / Boca Beth - NEW!

Enjoy 26 fun song for children in English and Spanish about community helpers, colors, friends, transportation, school, clean up, days of the week, line up, counting, months, shapes, letters, animals, parts of the body, and a few fun surprises!

Song titles in English and Spanish (Disc 1): I Like You, Feeling Fine, Twinkle Friends, I Like to Come To School, Tidy Up, Line Up, Magic Words, Seven Days in the Week, Month March, Zero The Hero, Shapes, Who Let The Letters Out? Color Box, Opposite Cheer.
(Disc 2): What Will the Weather be Today? Animal Good Morning Song, Head, Shoulders, Body Parts, Little Red Box, Community Helpers, Transportation, That's the Name of My School, If You're Happy and You Know It, Mother Goony Bird, Banana Dance, Let's Move, We Had A Good Day.

#DR0019 Fusion Fiesta Fun 2/CD $30.00
Better Bodies and Brains - Let's Get Moving! NEW! 2/CD

This Dr. Jean CD features songs to start your day and wake up the brain, as well as songs for stretching, breathing and relaxing. Each song includes a vocal version, as well as a track with the instrumental version. This will allow you the opportunity to make up your own movements and exercises.

Disc 1: Vocal & Instrumental Track for: Time To Get Up, Hello Friends, Morning Stretch, ABC Kick Box, Letter Pops, Phonercise, Cheering Letters, Macarena Count To 100, This Is The Way We Exercise, 7 Days of Boot Camp, Sports Around The Year, Jump Up – Turn Around- Cross That Midline, Hand Jive, I Am Slowly Going Crazy.

Disc 2: Vocal & Instrumental Track for: Chair Can Can, My Bonnie Bounce, Wiggie Willy, Banana Dance, Kids On The March, Jump Rope Rally, Zoo Movements, Patty Cake Party, Line Dance, Head-Muscles-Baby 1-2-3-, Balancing Act, Tighten and Relax, Tony Chestnut, It's All Good.

#DR0018 2/CD set $30.00
Cheer Along with Dr. Jean

63 Cheers and Attention Grabbers to Motivate and Engage Children!! Energize, motivate and engage children with the fun cheers packed in this resource book from Dr. Jean. Included are cheers to begin and end the day, transition between activities, grab students' attention, help students feel good, celebrate special occasions. Photos and text offer step-by-step directions for cheer movements.

#CTP5784 Book $14.99
I Love Letters

By Dr. Jean Feldman & Holly Karapetkova.
More than 200 Quick & Easy Activities to introduce Young Children to "26 Letters "friends" and Literacy! The wiggles and squiggles that turn into words, stories, poems and great literature are the tools for the future readers. Children will love learning their letters as they play the Name Game, sew their own letters, create Puzzle Pairs, and more! Chapters include: Print Knowledge, Oral Language, Letters, Letters Everywhere, Names Are Magic, La-La-La-La Letters, Feel! Taste! Touch!, Letter Games, Write On. 140 Pages.

#DR19206 Book $16.95
Going Green with Dr. Jean

This collection of new songs offers music for environmental studies, science, and social studies. Your students will learn about recycling, conservation of energy, and endangered species by singing along with you and Dr. Jean. "I Know a Scientist," "Basic Needs," "Habitat Homes," and other songs relate to many state standards. You'll find a remake of "The Planet Song" (to reflect 8 planets) and a new "Presidents Song".

21 new songs! Titles include: Feeling Fine, The Green Team, Turn It Off, Reduce, Reuse, Recycle. Litter Patrol, Eat Green, Endangered Species A-Z, Earth Day, Water Cycle, Basic Needs, Continents Together, Oceans Clean and Blue, My Aunt Came Back, This Land Is Your Land, Arms Are For Hugging, Arms Are For Hugging (Music Only).

#DJ0017 CD $17.50
Totally Reading (2 CDs)

The goal of this CD is to put a little fun and joy back into reading. Your children will be so engaged in singing and dancing that they won't even realize that they are learning! The songs are based on state standards and reading research and can be adapted for pre-K through primary grades. Songs are grouped by essential components: phonemic awareness, phonics, fluency, comprehension and vocabulary. Songs include:

Phonics: Happy Birthday Letters, Who Let the Letters Out? (open version), I Know an Old Man Who Swallowed A Letter, Letter Round-Up, Slide and Blend.
Fluency: Rapping Words, Punctuation Pays
Comprehension: Who? What? Where? When? Why?, It's Fact and Fiction Time.
Vocabulary: Parts of Speech Hoedown, Endings, We Can Do Opposites, Synonym Stomp. Writing: Ready to Write, Pencil Talk, Hi Ho Librario- Parts of a Book, Parts of A Letter. Good-bye, Friends
Readiness: Don't You Just Love to Read?, Color Train, Deck the Room, Alphabet Antics.
Phonemic Awareness: Nursery Rhyme Marathon, Rhythm Rhyme, Miss Mary Fill in the Blank, Pepperoni Pizza, Syllable Clap, Word Families. 89 songs, as well as instrumentals for 10 of the songs. Titles and words to all 23 of the songs on Disk 1, and 16 songs on Disk 2 are included with the CD.

#DJ0016 2/CD Set $30.00
Sing and Read~

Sing-along, Read-along with Dr. Jean Readers. Twelve popular Dr. Jean songs have been hand selected and transformed into delightful readers. These fun and whimsical stories support early learning concepts by nurturing oral language, alphabet recognition, and print knowledge. These motivating stories are easy to act out and make learning fun! 12 pages each.
Action Alphabet by Dr. Jean

#DJ1360 Reader $3.49

Birdies by Dr. Jean

#DJ1363 Reader $3.49

Color Train by Dr. Jean

#DJ1358 Reader $3.49

Dinosaur Boogie by Dr. Jean

#DJ1361 Reader $3.49

Five Little Monkeys by Dr. Jean

#DJ1359 Reader $3.49

I Know an Old Lady Who Swallowed a One

#DJ1366 Reader $3.49

May There Always Be Sunshine by Dr. Jean

#DJ1365 Reader $3.49

My Hands on My Head by Dr. Jean

#DJ1369 Reader $3.49

My Mother Is a Baker by Dr. Jean

#DJ1368 Reader $3.49

Nursery Rhyme Rally by Dr. Jean

#DJ1364 Reader $3.49

Rules Rap by Dr. Jean

#DJ1362 Reader $3.49

Twinkle Friends by Dr. Jean

#DJ1367 Reader $3.49

Dr. Jean Sing-Along, Read-Along CD

CD has 12 songs from the series (titles listed above).

#DJ1370 CD $14.99
Sing-Along, Read-Along set

12 Books (1 each title)

#DJ1377 $41.88

12 Books (1 each title) w/CD

#DJ1375 $56.87
Sing Along & Read Along with Dr. Jean Resource Guide

Teach along with Dr. Jean! This guide shows you to use the 12-book Sing Along and Read Along reader series. With companion CD with your students to promote an interactive learning experience. Use the engaging ideas and activities in this guide to help supplement many early childhood learning concepts.

#DJ2534 CD/Book $9.99
Sing and Read Lap Books - NEW!

These lap books, designed to accompany the Dr. Jean readers and companion CD, are great for small-group instruction, individual students reading, and read-alouds. Use in conjunction with the readers or independently to make early childhood themes as much fun to learn as they are to teach. 13 ½" x 9 3/8". Includes (1) copy of each lap book.

#CTP5783 12 Lap Books w/CD $98.87

#CTP5782 12 Lap Books $83.88
Sing Along & Read Along with Dr. Jean All-in-One Pack - Readers

(1) Copy of each Sing and Read / 12 books.
(1) Sing and Read CD
(1) Sing and Read Resource book

#CTP3171 Readers/Complete $58.86

Sing Along & Read Along with Dr. Jean All-in-One Pack - Lap Books - NEW!

(1) Copy of each Lap Books Sing and Read / 12 books. 13 ½" x 9 3/8".
(1) Sing and Read CD
(1) Sing and Read Resource book

#CTP5785 Lap/Complete $106.86
HAPPY EVERYTHING!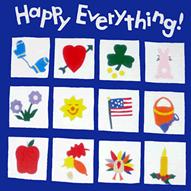 This one is a two-CD set with 51 songs. Words are included. You will find songs for all four seasons. There are eleven songs for Spring: St. Patrick's Day, Five Little Kites, Rain, Birdies, Caterpillar's Story, Flip, Flop, Hop, the Planting Song, Popcorn Tree, Earth Day, Cinco de Mayo, and A Box for Mommy. Summer provides eight more songs: Take Me Out to the Ball Game, We Love Our Flag, He's My Dad, Swimming, The Fourth of July, Going on a Picnic, Beep! Choo! Zoom! Honk! and School Days. For Fall we have sixteen songs: School Cheer, Super Star Chant, I Like to Come to School, Gray Squirrel, Scarecrow, Apple Tree, Grandparents Day, Columbus Day, Stirring our Brew and 3 Little Witches, Halloween Medley, Five Days of Halloween, Veteran's Day, Albuquerque Turkey, Over the River, Gobble! Gobble!, and We Give Thanks. Winter has sixteen more: Jingle Bells, Jingle Bell Rock, SANTA, My Dreidel, Holiday Alphabet, Kwanzaa, Ring in the New Year, Seasonal Wandering, I'm a Little Snowman, Stand Up for Martin Luther King, 100 Days, Groundhog Day, Abraham Lincoln, Bringing Home a Valentine, Will You Be My Valentine?, and Presidents' Day Titles and words to all 51 of the songs included with the CD. This CD is available in July 2007.
#DJ0015 2 CDs $30.00
Totally Math

Concepts such as counting, money, time, shapes, patterns, addition and more. Titles include: Clock Rock, Shape-A-Loo, Fraction Pizza, Numbers You Should Know, Country Countdown, 5 little Crabs and more. 25 songs.

#DJ0012 CD $17.50
Just for Fun

Count to 100 with the Zero The Hero Stomp, Alphabet Train, The Vowel Family, Miss Mary Mack, Pizza Hut, Dinosaur Boogie, Granny At The Fair, Letter Tales, 5 Little Hot Dogs, and more, 17 songs.

#DJ0010 CD $17.50
All Day Long

Circle time tunes will help children to spell the days and the months. Birthday and Lost Tooth Song. Chants to line up, clean up and sit down. Handwashing Song, Rise and Shine, New Shoes, Wiggle Them, Hi Ho Helpers, Back Pack Boogie, Weather Song, Pencil Grip, Scissors Snip, Month Hop and more, 28 songs.

#DJ0009 CD $17.50
Kiss Your Brain

24 songs that will develop phonological awareness, reading skills, as well as, math and science concepts. Songs: Who Let The Letters Out, The Vowel Cheer, Counting Cadence, Macarena Bones, 5 Senses.

#DJ0008 CD $17.50
Ole, Ole, Ole

Sung in English and then again in Spanish to provide a bridge for learning both languages. Songs for daily routines, math, language and color, as well as movement. Songs: Hello Friend, Days of the Week, Months of the Year, Opposites, Color Farm, Tooty Ta, The Rules Rap, and more.17 songs with printed lyrics for each version.

#DJ0011 CD $17.50
Sings Silly Songs

Favorites include: Alligator, The Cool Bear Hunt, Over in the Meadow, Bubblegum, Catalina Matalina, The African Village Song, Pepperoni Pizza, I Like You and more.

#DJ0001 CD $17.50
Dr. Jean and Friends

Songs include: Tooty Ta, Mother Goony Bird, Dr. Kincker Bocker, Tarzan, Monkeys and the Alligator, Macarena Months, Days of the Week, Today Is Monday, Elephant Song, Nursery Rhyme Rap, Miss Sue, My Hands On My Head, Weather Song, Special Me, My Mother Is A Baker, Weather Song, I Had A Bird, and Patalina Matalina. 17 songs.

#DJ0002 CD $17.50
Keep on Singing and Dancing

Dance to songs like: Let Me See You, Bugaloo, Wally Acha, Chica Boom. Others include: The Old Lady Who Swallowed A Fly, Hello Neighbor, May There Always Be Sunshine, We Love Peanut Butter. 13 Songs

#DJ0003 CD $17.50
Sing to Learn

Alphardy, Sing and Sign, Color Animals, Macarena Math, Shape Family, Continents, Oceans, The Presidents, Phon-ercise, Color Farm, Directions, Sing and Sign and more.

#DJ0004 CD $17.50
Is Everybody Happy?

Couch Potato Pokey, Lettercise, Money Song, Rules Rap, Junior Birdmen, Planet Poem, Compound Boogie, Rules Rap, Money Song, Button Factory Couch Potato Pokey, 18 Songs.

#DJ0005 CD $17.50
Rockin' Rhymes & Good Ol' Times

Interactive versions of nursery rhymes :Little Boy Blue, I'm A Little Teapot, Jack be Nimble, Plus: 'Comin' Round the Mountain, Froggie Went A Courtin' Skip to My Lou and more. 29 songs.

#DJ0006 CD $17.50
Sing, Little Children, Sing

22 songs include: If You Love The Lord, Clap Your Hands, Do Lord, Down In my Heart, This Little Light Of Mine, Rise and Shine, I'll Be A Sunbeam. The BIBLE, He's Got The Whole World In His Hands. Jesus Loves Me, Into My Heart and more.

#DJ0007 CD $17.50
Dr. Jean - 11 CD SET
This special priced set contains 11 of Dr. Jean's most popular recordings:
Dr. Jean Sings Silly Songs / Dr. Jean & Friends / Keep On Singing and Dancing / Sing To Learn / Is Everybody Happy? / Nursery Rhymes & Good Ol' Times / Just For Fun / All Day Long / Kiss Your Brain / Ole! Ole! Ole! / Totally Math (regular price $192.50 you save $27.50)
#DJ0018 11/CD SET $165.00
Dr. Jean Books~
Rainy Day Activities

Rainy Day Activities has everything you need to make being stuck inside fun! Filled with quiet games to create relaxing moments, active games to get the wiggles out, and games that require no materials at all. Great for Preschool. Child Care Programs/ K-2 Teachers.

#NSM10659 BOOK $7.95
Transition Time: Let's Do Something Different

Turn stressful transition times into fun learning experiences with practical, simple activities. From Good Morning to Circle Time to Clean-up, every part of the day is addressed with appropriate imaginative activities. Periods of time between planned activities will become teachable moments using this invaluable resource. These easy-to-use transition activities will take the teacher smoothly throughout the day, week, month and year. Contains over 400 activities and ideas.

#NSM19844 BOOK $19.95
Transition Tips and Tricks For Teachers

More transition time attention-grabbing, creative activities that provide children with an outlet for wiggles, while giving their brains a jump start with cross-lateral movement games. Grab their attention with songs, games, and fingerplays for any time of the day.

#NSM16728 BOOK $19.95